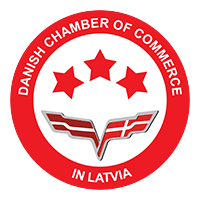 WELCOME TO THE DANISH CHAMBER OF COMMERCE IN LATVIA
Calendar
Date D.M.Y
Time
Event
24.03.2023
17:30 - 21:00
DCCL Annual General Meeting
The Annual General Meeting of the Danish Chamber of Commerce will be held on March 24, 2023 at the Grand Palace Hotel, Pils iela 12, Riga Old Town.
17:30 - Gathering and welcome drink in Orangerie hall
18:00 - Annual General Meeting
19:00 - Introduction to Mads Østergaard, the new Regional Director of the Danish Cultural Institute in Estonia, Latvia and Lithuania
19:30 - Dinner, 3-course dinner on the DCCL´s account; DCCL pays for 2 persons per Gold membership and 1 person for other memberships. Guests - 50 EUR/person. Drinks on one´s own bill for everybody.